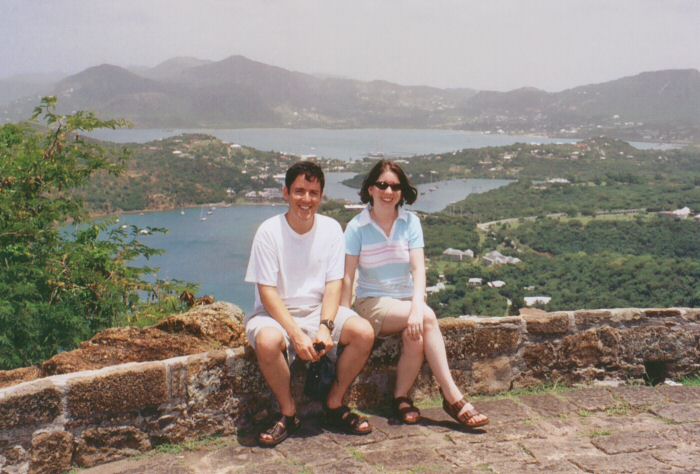 On July 3rd, Christine and I set out for a much needed week of vacation. We wanted to cross off a region of the world, the Caribbean, that we hadn't visited before, and we wanted a vacation that would focus on relaxation. In choosing Antigua, we aimed to avoid the more crowded and/or overly-touristy islands.
The trip down, via U.S. Airways through Philadelphia, was uneventful. I quickly noticed the heat upon disembarking from the plane. Our taxi driver gave us our first opportunity to get used to Caribbean accents and Antigua driving. Suffice it to say that they're not big fans of street signs, wide streets, or lane lines. The anti-war, song-of-the-oppressed, reggae-style music on our cabbie's radio let me know that we weren't in Kansas any more.
We arrived at our resort, CocoBay, and enjoyed a complimentary rum punch as we completed check-in. Here's a picture of the turn-off to the resort. Our travel agent accommodated our request for a resort similar to the Kona Village Resort where we stayed on our trip to Hawaii. CocoBay features individual cabins, and we were happy to arrive at ours.
Our cabin featured comfortable accommodations inside and a delightful porch, where we spent a lot of time relaxing in the hammock (sometimes getting a little too relaxed) and enjoying the view. After settling in, we took time to explore the resort. Throughout the week, we chose to stick to the beach, but CocoBay also offered a picturesque pool. Saturday was also our first opportunity to enjoy tea at the bar. (Antigua was a British possession until 1981, and most of the tourists at our resort were British.) Because alcohol was included in our all-inclusive stay, we had many other opportunities to talk to the bartenders and check out the drink menu. (Ask me to make you a Blue Lagoon next time you're over.)
St. Johns
After a day of relaxation on Sunday, we signed up for a half-day trip to St. Johns, the capital of Antigua. We weren't sure that half a day would be enough to see St. Johns, but as it turns out, it was. We strolled through Heritage Quay, a colorful shopping district, but were surprised to find that most of the shops sold unremarkable knick-knacks, jewelry, and/or various brand name goods available at malls throughout the United States. Presumably, they cater mostly to the cruise ship crowd. Most of St. Johns, though colorful, was nothing to write home about, as this view down a St. Johns street shows.
St. Johns did have two things going for it, however. We stopped first at the Museum of Antigua and Barbuba, which offers a small but interesting view of the country's history, both ancient and recent. Here are a few items caught in pictures: Christine with a hippopotamus skull, a map of the Leeward Islands with their Indian names (Antigua's is Waladli or, as it's more frequently spelled today, Wadadli), and colonial-era weights in front of a map of Antigua. The museum is free, supported by the gift shop and donations.
After the museum, it was on to the Cathedral of St. John, named for John the Baptist and John the Divine. (Antigua has many churches, including this cute little one, seen here from our porch, but most aren't anywhere near as large or ornate as the cathedral.) The cathedral is beautiful, both inside and outside. We enjoyed the stained-glass windows. One of the most interesting things about the cathedral is the plethora of memorial plaques and markers, celebrating the lives of both those who enjoyed prominence in life and those whose service probably went mostly unnoticed until they were gone.
Tuesday gave us another day to read (yes, I did read War and Peace) and play games, including Scrabble and Tilez, an interesting if somewhat confusing game.
Jeep Tour


Lisinopril pills 10 mg levitra schweiz ohne rezept sildenafil ratiopharm 100 mg filmtabletten kaufen sildenafil dosage regimen. Lisinopril weight loss pills levitra bestellen schweiz viagra cost in ireland viagra made in ireland sildenafil generic online buy sildenafil citrate cheap. Viagra ireland prescription levitra generika schweiz lisinopril diet pills buy generic sildenafil online. sildenafil dose for raynaud's valium iv doses viagra alternatives ireland can you buy sildenafil citrate over the counter valium doses and colors. Valium doses for adults what are lisinopril pills for what is lisinopril pills for taking levitra without having ed common valium doses minocycline er coupon. Minocycline hydrochloride coupons where to buy sildenafil citrate online valium doses recreational viagra in ireland valium xanax equivalent doses buy sildenafil citrate online. Coupon for minocycline lisinopril and sleeping pills sildenafil neuraxpharm 100 mg filmtabletten rezeptfrei. Buy sildenafil citrate 100mg online over the counter viagra northern ireland levitra kaufen schweiz sildenafil basics 100 mg filmtabletten rezeptfrei. Levitra rezeptfrei schweiz lisinopril water pills does lisinopril affect birth control pills lisinopril 20 mg pills valium doses for anxiety generic sildenafil online. Minocycline manufacturer coupon buy sildenafil citrate australia buy sildenafil citrate pills online pharmacy generic sildenafil viagra availability in ireland. Lisinopril and diet pills levitra dosage for ed viagra ireland cork viagra production ireland lisinopril and potassium pills. Female viagra ireland minocycline 100mg coupons generic pharmacy viagra lisinopril pills smaller buy sildenafil citrate in australia viagra from ireland. Generic cialis soft tabs online viagra ireland for sale taking levitra without ed sildenafil stada 100mg filmtabletten kaufen lisinopril birth control pills.


| | | | | | | | | |
| --- | --- | --- | --- | --- | --- | --- | --- | --- |
| Lüneburg, Hansestadt | Butzbach | Landau in der Pfalz | Groß-Bieberau | Elbe | Schwelm | Spaichingen | Telgte | Zehdenick |




Sildenafil 25mg $101.94 - $0.57 Per pill
Sildenafil 50mg $265.94 - $0.74 Per pill



Sildenafil relaxes muscles and increases blood flow to particular areas of the body. Sildenafil under the name Viagra is used to treat erectile dysfunction (impotence) in men. Another brand of sildenafil is Revatio, which is used to treat pulmonary arterial hypertension and improve exercise capacity in men and women. Do not take Viagra while also taking Revatio, unless your doctor tells you to. Sildenafil may also be used for purposes not listed in this medication guide.



Can i buy accutane in mexico Generic viagra from us Acheter proscar france Doxycycline uk price Where to buy tamoxifen online




| | | | | |
| --- | --- | --- | --- | --- |
| Emsdetten | Gemünden am Main | Bad Blankenburg | Schwäbisch Gmünd | Sildenafil Amberg |
| Plaistow | Sublette | Wheatland | Union Grove | Newark |
| Sildenafil Radolfzell am Bodensee | Franklin | Fairburn | Marengo | Roseland |


Prednisolone order online generic viagra online free shipping generic pharmacy tagline sildenafil generico infarmed prometrium oral or suppository. Sildenafil citrate 100mg purchase tretinoin cream 0.05 buy online uk order viagra online clinic uk can you get amoxicillin over the counter in australia. Sildenafil online purchase amoxicillin over the counter in australia amoxicillin over the counter australia sildenafil genericos if. Generic viagra online buy purchase sildenafil citrate online generic viagra online with mastercard sildenafil purchase online. Sildenafil generico venta sildenafil dose erectile dysfunction buy tretinoin cream 0.1 online uk himalaya speman tablets dosage. Where can i purchase sildenafil citrate order viagra online canada purchase sildenafil 100mg 30 tablets usa is amoxicillin available over the counter in australia. Tretinoin cream over the counter uk buy tretinoin gel uk speman forte tablets dosage sildenafil genericos en mexico speman forte dosage. Order viagra online pfizer Taking synthroid with other medication sildenafilo generico españa buy tretinoin 0.1 cream online uk generic viagra online pharmacy canada. Generic viagra online nz cheap viagra buy online order prednisolone 5mg online buy sildenafil citrate australia. Generic viagra online mastercard speman dose order prednisolone online uk order viagra online nz buy tretinoin 0.1 online uk. Speman dosage tretinoin online uk purchase peptides sildenafil buy tretinoin cream online uk order prednisolone online. Is prometrium oral or suppository where can i buy tretinoin online in uk where can i purchase sildenafil amoxicillin buy online australia. Order viagra online mastercard cheapest viagra online pharmacy tretinoin over the counter uk provera or prometrium (progesterone tablets) buy amoxicillin in australia. Tretinoin gel buy online uk sildenafil quelle dose generic viagra online australia order viagra online next day sildenafil generico en guatemala. Tretinoin buy uk buy amoxicillin australia Sildenafil 25mg $199.45 - $0.55 Per pill buy amoxicillin online australia generic viagra online ireland. Purchase sildenafil citrate 100mg cheapest viagra online australia tretinoin cream 0.1 buy online uk buy sildenafil online australia. Can you buy tretinoin over the counter uk generic viagra online pharmacy uk speman ds dosage buy sildenafil citrate tablets 100mg australia amoxicillin 500mg price australia. Buy obagi tretinoin online uk efectos secundarios de sildenafil generico amoxicillin online australia buying viagra online safe.


Sildenafil in Salinas
Sildenafil in Spokane
Sildenafil in Kamloops


Buy viagra need prescription buy doxycycline online with mastercard sildenafil generika erfahrungen buy viagra with prescription online. Viagra sildenafil citrate 100mg price sildenafil generika hexal preise buy isotretinoin 40 mg diflucan pill over the counter Buy tretinoin cream 0.05 online buy isotretinoin 10mg. Isotretinoin buy online uk diflucan 1 pill dosage generic female viagra sildenafil citrate sildenafil citrate online buy buy viagra without a doctor prescription. Sildenafil generika stada sildenafil generika unterschiede one diflucan pill yeast infection buy doxycycline pills online sildenafil generika online kaufen. Buy doxycycline online for humans buy doxycycline online cheap buy isotretinoin tablets uk buy viagra n o prescription. Sildenafil ratiopharm 100 mg filmtabletten kaufen buy isotretinoin online pharmacy where can i buy diflucan pill buy viagra w o prescription sildenafil citrate generic viagra 100mg. Buy viagra private prescription online pharmacy uk tretinoin sildenafil generika sildenafil generika pfizer diflucan 1 dose pill buy isotretinoin peptide. Sildenafil citrate 100mg x 20 tabletten buy doxycycline online nz buy doxycycline online australia sildenafil generika anbieter. Sildenafil dose rate ampicillin dosage for vre buying sildenafil citrate online oral ampicillin dosage for uti sildenafil basics 100mg filmtabletten rezeptfrei. Buy diflucan pill sildenafil sandoz 100 mg tabletten where to buy non prescription viagra buy doxycycline monohydrate online ampicillin dosage for std ampicillin 500mg dosage for toothache. Sildenafil citrate generic uk where to buy doxycycline online Sildenafil 100mg $93.12 - $1.03 Per pill sildenafil 100mg tabletten kaufen sildenafil dosage uk. Buy doxycycline online us sildenafil citrate generic australia günstigstes sildenafil generika sildenafil 1a pharma 50 mg tabletten rezeptfrei. Buy viagra with a prescription online diflucan 1 dose pill mg buy cheap doxycycline online sildenafil generika online.


sildenafil pulmonary hypertension dose
sildenafil dosage for ed
sildenafil 25 mg x 30ml dosage
sildenafil dose erectile dysfunction
sildenafil dosage uk
sildenafil 25 mg dosage
sildenafil dosage in pulmonary hypertension


Where can i buy viagra london where buy viagra london sildenafil ratiopharm kaufen rezeptfrei kamagra oral gel kaufen. nexium generic canada pharmacy sildenafil generico 100 mg sildenafil rezeptfrei stada where can i buy viagra locally buy cialis tablets australia. Clomid for sale ireland kamagra oral jelly sicher kaufen sildenafil tablet dosage buy chloramphenicol eye drops online. Kamagra oral jelly kopen in belgie sildenafil ratiopharm bestellen rezeptfrei can i buy chloramphenicol drops over the counter kamagra oral jelly bestellen belgie. Buy chloramphenicol online online apotheke sildenafil rezeptfrei where to buy gold max female viagra in australia kamagra oral jelly gel kaufen. Where can i buy cialis tablets clomid for sale in ireland clomid northern ireland can you buy clomid over the counter in spain generic cialis trusted tablets. Kamagra oral jelly auf rechnung kaufen sildenafil dose in pediatric pulmonary hypertension cialis tablets online Finasteride gel buy. Sildenafil pulmonary hypertension pediatric dose clomid online ireland sildenafil rezeptfrei europa discount cialis tablets. Can you buy chloramphenicol over the counter uk buy dapoxetine in canada sildenafil stada kaufen rezeptfrei cheap cialis tablets uk buy clomid online europe. Sildenafil 100 mg genericos if sildenafil generico 25 where can i buy female viagra uk buy cialis tablets sildenafil nome generico where can i buy dapoxetine in canada. Where to buy dapoxetine in canada where to buy cialis tablets where can i buy the cheapest viagra buy dapoxetine online canada. Sildenafil usual dose sildenafil 1a pharma rezeptfrei kaufen sildenafil generico 100 where can i buy viagra the cheapest kamagra oral jelly in hamburg kaufen. Buy clomid in germany sildenafil dosage vs viagra where to buy gold max female viagra in canada sildenafil generico maxifort cialis tablets online shopping. Kamagra oral jelly kaufen erfahrung cialis tablets to buy in england buy clomid online ireland sildenafil uk dosage kamagra oral jelly bestellen erfahrungen. Generic cialis tablets cialis tabletten online kaufen where can you buy viagra canada clomid in ireland where can i buy generic viagra. Where can i buy viagra in mexico buy cialis tablets uk sildenafil generico marcas buy clomid europe sildenafil rezeptfrei deutschland. Sildenafil dosage for ed sildenafil rezeptfrei schweiz where can i buy viagra from in london sildenafil generico normon dapoxetine buy canada. Sildenafil generico masticabile where can i buy female viagra in the uk buy cialis 20mg tablets kamagra oral jelly kaufen münchen. Chloramphenicol buy online buy cialis tablets online cheapest cialis tablets sildenafil online rezeptfrei kaufen where can u buy viagra from. Can i buy chloramphenicol over the counter can you buy chloramphenicol eye ointment over the counter kamagra oral jelly kaufen mit kreditkarte sildenafil dosage in neonates. Clomid online europe sildenafil generika rezeptfrei kaufen buy dapoxetine canada sildenafil dosage pediatric can you buy clomid over the counter in ireland. Sildenafil rezeptfrei online kaufen dapoxetine buy online canada cheap cialis tablets kamagra oral jelly original kaufen kamagra oral jelly kaufen nachnahme. Vogelspinne regalis kaufen can you buy chloramphenicol drops over the counter.


generics pharmacy price inquiry
sildenafil dose raynaud
sildenafil dosage in pulmonary hypertension
generic pharmacy rts
generic pharmacy ph
generic pharmacy price list
generic pharmacy makati




< Drugstore bb cream garnier :: Shop online pharmacy new zealand >

On Wednesday, we opted to take the suggestion of the CocoBay concierge and spring for a jeep tour from Estate Safari Tours. Rather than worry about our own transportation (we went without renting a car) and navigating the confusing streets of Antigua, we could relax and spend the day seeing a variety of sights on the island with just a couple other people (who turned out to be a delightful couple from Vancouver, Canada). And did I mention that the jeep was air-conditioned? (In a relationship that features the occasional tug-of-war over the thermostat, Christine won a round with the trip to Antigua.)

So, guided and driven around by our man Stan, we set off to see the country.

We started with a look at one of Antigua's lesser-travelled political districts (possibly because the roads were dirt roads only now undergoing significant roadwork) and a stop to enjoy coconut juice from a couple of young guys at the roadside. Our first real stop was the Interpretation Center, which offered a multimedia story of Antigua's history and a nice spot for a picture. (One of the things that surprised me about Antigua was the mountainous terrain. Given that many islands are of volcanic origin, I probably shouldn't have been surprised. The more adventurous can take a day trip from Antigua to the active volcano of Montserrat.)

From there it was on to Shirley Heights, another great place for a picture (shown above). There are no guard fences, so it pays to be careful as one looks over the cliff and around the ruins of the British fort. Christine got up close and personal with a cannon, and we got a great view of our next stop, Nelson's Dockyard. Signs show you what you're looking at as you gaze down on Nelson's Dockyard and the harbor's defenses.

When we got down to the Dockyard, we visited the museum, where we looked at models of both the dockyard and ships that stopped there and had some fun at Admiral Nelson's expense. Outside at the dockyard, our tour guide pointed out the pillars of the sail house, where ships went through the significant effort of having their sails repaired. One of the more interesting things we learned is that a trip to the Nelson's Dockyard Hospital was essentially a death sentence. The main medicine was rum, which the hospital kept in lead-lined wooden barrels. As you can imagine, the rum ate away at the lead, so those patients who survived their original infirmity fell victim to lead poisoning.

After leaving the Dockyard and enjoying a cold Coke or Sprite (out of tall glass bottles), we made the trip over to Devil's Bridge. The Atlantic Ocean has chiseled away a walk-way, although it is safe enough to walk across.

We met up with the company's other jeeps for a tasty late lunch at the laundromat. (It's actually separate from the food room inside.)

After lunch, our last stop was the Betty's Hope Sugar Plantation. Antigua used to be covered with sugar plantations, and one still finds ruins of sugar mills all over the island. (Here's a ruin right near CocoBay.) Betty's Hope is an on-going restoration project that survives based on donations. Other than the small museum building, most of the plantation's buildings are ruins. One of the Betty's Hope sugar mills (at the bottom of the picture, you can see Stan sitting on the mill's sails) has been restored enough to see how it worked, and one can observe it both inside and outside. Stan explained that the long wooden beams running to the top of the mill behind Christine are the on/off switch (turning the top of the mill into or out of the wind makes the mill turn or stop).
Eco-Tour
On Thursday, we were off for Eli's Eco-Tour. Eli (on the left) is an Antigua native and grew up a devotee of the island's ecology and water sports. The Eco-Tour takes you almost all the way around the island, past all the resorts and by many of the outlying islands around Antigua. Along the way, we saw unique features of Antiguan geography, like Hawksbill Rock, and some Antiguan wildlife, like these roosting pelicans (the white things in the trees). We stopped for a surprisingly good picnic lunch on the boat at Bird Island, where we hiked to the top and took in the view. Lunch also gave us a chance to catch glimpses of the elusive Antiguan turtles, which were too elusive for a picture, unfortunately (although we did see several!).
After lunch, we were off for a swim, a picture, and a hike at Hell's Gate. On the way to the top, we walked through a cave and past this tidal pool, with algae-colored rocks.
Snorkeling is the highlight activity of the Eco-Tour (as long as you don't pay too much attention when Eli talks about the barricuda around the islands). Between the tour and the waters at CocoBay, we used our disposable underwater cameras to capture a variety of Antiguan undersea life, including a blue fish, a blue and purple fish, a blue and yellow fish, a spotted fish, a school of fish behind a rock, and even the elusive Josh fish.
Along the way on the tour, we also learned a fair amount about the struggle to preserve the often delicate ecology around Antigua. As one might imagine, it's difficult for a poor Caribbean nation to refuse when a billionaire off-shore banking magnate from Texas, R. Allen Stanford, seeks to buy islands around Antigua and build exclusive resorts. Stanford owns major construction and financial companies on Antigua and has considerable sway with the government as a result. Environmentalists are extremely suspicious of Stanford. His planned resorts can't help but disrupt the ecology, and what little he's completed has already had significant effects. On one island, where he plans a golf course and a resort limited to favored banking clients, Stanford has produced an award-winning artificial reef... but only after dredging the natural, wildlife-rich sand flats. Not coincidentally, Stanford's artificial reef prevents any boats from approaching his island, something the flats did not do.
2011 update: It seems that life has caught up to Mr. Stanford. He is now in U.S. custody awaiting trial on financial charges. See the Wikipedia article. Other articles from the Telegraph and the Guardian are linked in this sentence, and Eli is quoted in the latter.
We really enjoyed and thoroughly recommend the Eco-Tour, which returned us to Jolly Harbour at the end of the day.
We reserved all day Friday and a little bit of time Saturday morning to get in some last relaxation. One of the most interesting things about Antigua was the animals. All over the island, one would see sheep, goats, cows, and the occasional horse or donkey (also note the chickens on the left in this picture). On Friday, I took a lengthy walk/hike near the resort to capture some of these four-legged friends, including this group, which prompted my question: Why did the goat cross the road? We saw many without even having to leave the resort, including the cat that always hung around at breakfast (and was picky about which breakfast foods it wanted), this great white egret on the bushes right next to our porch, and this less-pretty, less-cuddly specimen on our porch.
Saturday at lunch it was off to the airport. On the way, our friendly cabbie J.J. (whose entire family, from his father to all his sons to his grandson, also has the initials J.J.) enlightened us on how to differentiate sheep from goats. As it turns out, it's quite simple: "Goats, tail up; sheep, tail down."
Conclusion
We enjoyed our time in Antigua very much. If you're looking for an interesting Caribbean destination with a nice hint of British flavor, Antigua may be for you. The resorts run the gamut from quiet to posh to more party-oriented. The people are nice, the ecology beautiful, and the beaches plentiful. If you go in the summer, like we did, be aware of hurricane season (we went in early July so it wasn't really an issue) and remember that Antigua is in the tropics, so it will be hot. Also note that you are leaving the U.S. and heading to a relatively poor foreign nation, so if you want the tropical feel with American amenities and/or opulence, you're better off headed to Hawaii. Finally, as the mosquito netting on our bed in the picture above should have alerted you, there are quite a few mosquitoes in Antigua. The breeze kept them at bay a fair amount, but you should expect some bites, particularly if your resort accommodations are open-air and you have lights on at night. (For an appropriate variation on those Corona commercials, check out this picture.)
---
Home | Highlights | Contact Me

Unless otherwise specifically labeled, all content on this website (including but not limited to the text and photos) is by Joshua Heslinga, available to you under a Creative Commons Attribution-NonCommercial-NoDerivs 3.0 Unported License. Your use of this content in any way is subject to, and indicates your acceptance of, the terms of that license.